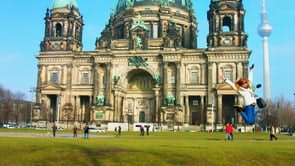 Berlinale Berlin Beats
The Beat Beneath My Feet
Berlinale Berlin Beats
A film encompassing three elements, the wonderful and international film festival Berlinale, the enthusiastic and friendly people of the beautiful city of Berlin, and the premier of 'The Beat Beneath my Feet' together with it's brilliant music and beats.
'The Beat Beneath my Feet' was the only UK feature film chosen for the 65th Berlinale 2015 - Generation 14 Plus. This section is home to cinematic works that are thematically and aesthetically linked to the experiences of young people. The program showcases outstanding youth films.
Look out for Nick Galitzine's instagram post ( https://instagram.com/p/y-Ue7FBlqU )as he runs up on stage with his iPhone https://instagram.com/nicholasgalitzine/
Captured with three different DSLRs mostly in 4K and handheld without lens stabilisation on the Voigtländer was a real joy. I also shot A Short Journey 'Berlinale' // iPhone6 https://vimeo.com/120224329 at the same time.
For more about the film, check out vimeo.com/channels/beatbeneathfilm
facebook.com/beatbeneathfilm
The song is by Radio Radio and called 'Fine Young Capulet' and is one of many great tracks in the film, check out https://soundcloud.com/radio-radio-uk and https://www.facebook.com/RadioRadioLondon
Thanks again to everyone who made this film possible including Mike Storey who helped me with those vox pops and my family i.e Team TFA :)
#10 https://vimeo.com/112071364 'The Beat Beneath My Feet' - First Day Show at the Clapham Picture House
#9 vimeo.com/108760652 '10/10 Premiere Beats'
#8 vimeo.com/105662296 'Crowdfunding Pitch'
#7 vimeo.com/105183139 'An interview with Luke Perry'
#6 vimeo.com/77095509 'Slo'
#5 vimeo.com/76472617 'Rehearsals'
#4 vimeo.com/76003110 'On Location
#3 vimeo.com/75582968 'Green Beats'
#2 vimeo.com/75434205 'Script reading'
#1 vimeo.com/74401031 'The Beat Begins' first of the series