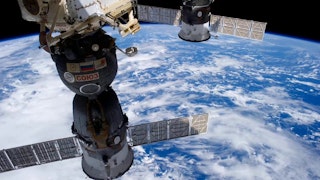 Latest Nasa Timelapse + Mini Tutorial
Space
Latest Nasa Timelapse + Mini Tutorial
These are the latest timelapses uploaded by Nasa from the crew of Expedition 31 on board the International Space Station on 9th July 2012. I couldn't download 3 others as there are some technical issues. This film is different to my normal style to show how simple it is to make these sequences. I used GBDeFlicker to reduce the flicker on two of the timelapses. I love 'Ireland to Somalia', you can see the lucious green Europe and the white crossed Alps transform to the yellowish dry terrain of the Arab Peninsula, the sight of the Nile is awesome, see if you can spot it.
The Mini Tutorial:
Basically for the ISS timelapses you need to open eol.jsc.nasa.gov/Videos/CrewEarthObservationsVideos/
Click on download High resolution photographs on the bottom right hand side of the video, this downloads the entire image set in a zip file, make sure you have alot of HD space.
There is a map and a whole lot of other image files to download if you wish to.
Once downloaded unzip and import into any timelapse creator, I used QuickTime Pro and there are free ones out there like Avidemux etc. You can deflicker, denoise etc. before you make your timelapse http://www.granitebaysoftware.com/Products/ProductGBD.aspx highly recommended as it is so easy to use.
I export at 25fps, 1920x1080P 9000kbits/sec preserving the aspect ratio using crop as a MP4 file.
You will love your creation once done, it really does feel good and is alot of fun! There are many other great things on various NASA websites like the Solar Dynamic Observatory and if you are really clever you can use the NASA PDS to extract images:)
Credits:
Images Courtesy of the Image Science and Analysis Laboratory, NASA-Johnson Space Center. "The Gateway to Astronaut Photography of Earth."
eol.jsc.nasa.gov/Videos/CrewEarthObservationsVideos/
eol.jsc.nasa.gov
Music:
"Something Jah" by Broke For Free (http://brokeforfree.com/) under Creative Commons Licence, 'Broke for Free' are simply awesome and is available from the Vimeo Music Store for free :)
Please consider subscribing to our Nasa Timelapse Club vimeo.com/channels/NasaTLClub